24./25. Juni 2023
20. Internationaler Fastenkongress der ÄGHE in Berlin/Hybrid
24/25 June 2023
20th International Fasting Congress of the ÄGHE in Berlin/hybrid
FASTEN - zwischen Therapie, Diät und Digitaler Gesundheit 
FASTING - between Therapy, Diet and Digital Health

Until

25 Jun, 14:00
1d 5h
20. INTERNATIONALER FASTENKONGRESS DER ÄGHE IN BERLIN / 20th Int. Fasting Conference Berlin
Kaiserin-Friedrich-Haus - Berlin
Organized by
Dr. Daniela Koppold / Organisation Team Berlin
Gastgeber: Prof. Dr. Andreas Michalsen
Abteilung Naturheilkunde im Immanuel Krankenhaus Berlin und Inhaber der Stiftungsprofessur für klinische Naturheilkunde am Institut für Sozialmedizin, Epidemiologie und Gesundheitsökonomie der Charité-Universitätsmedizin Berlin. / Department of Naturopathy at Immanuel Hospital Berlin and holder of the endowed professorship for clinical naturopathy at the Institute for Social Medicine, Epidemiology and Health Economics at Charité-Universitätsmedizin Berlin.
---
CME-Punkte: Die Veranstaltung wird voraussichtlich mit 8 CME-Punkten zertifiziert.
Tagungsprogramm / congress program
SAMSTAG, 24. JUNI
09.30 Einlass | Admittance
10.00 Begrüßung von ÄGHE und Charité | Welcome Address by ÄGHE and Charité – Dr. Rainer Matejka, Prof. Dr. Andreas Michalsen
10.15 Neue Perspektiven aus Fasten in Prävention und Therapie | New Perspectives of Fasting for Health and Disease – Prof. Dr. Andreas Michalsen, Dr. Daniela Koppold
11.00 Therapeutisches Fasten bei Diabetes mellitus Typ 2 | Therapeutic Fasting in Diabetes  – Prof. Dr. Peter E.H. Schwarz
11.30 Kaffeepause | Coffee Break
12.00 Aktive Pause (optional) | Active Break (optional)
12.15 KEYNOTE: Wie sieht es mit der Fastenpille aus? | How about the Fasting Pill? – Prof. Dr. Tobias Eisenberg
12.50 Studienbericht: Fasten für die Zahngesundheit | Study Update: Fasting for Dental Health – Dr. Christina Pappe
13.00 Mittagspause – Satellitensymposium | Lunch Break – Satellite Symposium
13.00 Gibt es eine schleichende Intoxikation durch Ernährung? | Is there such Thing as a Silent Dietary Intoxication? – Dr. Henning Sartor
13.30 Wie steht es um das Säure-Basen-Gleichgewicht beim Fasten? | How about the Acid-Base Balance during Fasting? – Prof. Dr. Jürgen Vormann
14.20 KEYNOTE: Gesundheitliche Vorteile des Intervallfastens | Health Benefits of Intermittent Fasting – Prof. Dr. Krista Varady
15.00 Neuste Daten aus Studien | Latest Clinical Study Results
Intervallfasten und Chronobiologie (Chronofast-Studie) | Intermittent Fasting and Chronobiology (Chronofast-Study) | Stoffwechsel von Gesunden im Fasten (LEANER-Studie) | Metabolism during Fasting in Healthy Individuals (LEANER-Study) |  Fasten und Ketogene Ernährung bei Multipler Sklerose (NAMS-Studie) | Fasting and Ketogenic Diet in Multiple Sclerosis (NAMS-Study) – Dr. Olga Ramich, Dr. Anja Mähler, Dr. Lina Samira Bahr
15.30 Digitale Gesundheit: Entwicklung technischer Unterstützungssysteme für gesundes Essverhalten | Digital Health> Towards an Eating Assistance System – Prof. Dr. Bert Arnrich
16.00 Pause mit optionalem Yoga | Break with optional Yoga Session
16.30 Podiumsdiskussion: Fasten sollte man – aber wie? | Panel discussion: A Time to Fast – But how exactly?
17.30 Offener Diskussionsraum | Open Discussion Space – Alle Referenten | All Speakers

18.15 – 19.15  Kultureller Abendspaziergang durch das Herz Berlins, vorbei am Reichstag-Gebäude und Museumsinsel, zum Abendevent am Hackeschen Markt | Cultural Workout – Historic Walk to the Evening Event through the Heart of Berlin, passing the Reichstag building and the Museum Island
Ab 19.30 – Abendevent mit Dinner-Buffet und Tanz in Berliner Flair am Hackeschen Markt (hier separat zu buchen) | Evening event with Dinner from the Buffet and Dancing in Berlin Flair at Hackescher Markt (to be booked separately here)
SONNTAG, 25. JUNI
09.30 Einlass | Admittance
10.00 Fasten: Ein spiritueller Blick aus Sicht der Bahá'í  | Fasting: A Spiritual View from the Bahá'í  Perspective – Mahyar Nicoubin
10.30 Fasten und Sport: Traumkombination oder besser nicht? | Combining Fasting and Sports – Boost or Fail? – Prof. Dr. Yurdagül Zopf
11.00  Aktive Pause | Active Break
11.10 KEYNOTE: Fasten während Chemotherapie – Was gibt es Neues? | Fasting during Chemotherapy: What's new? – Dr. Claudio Vernieri
11.50 Pause – Satelliten Symposium | Break – Satellite Symposium
11.55  Fasten und das Darmmikrobiom | Fasting and the Gut Microbiome – Plamena Dikarlo
12.30 Studienberichte: Fasten in der Onkologie | Study Updates: Fasting in Oncology – Dr. Adi David, Dr. Daniela Koppold
13.00 Interaktive Fallkonferenz: Die ambulante Zukunft des Fastens | Interactive Case Conference: The Outpatient Future of Fasting Ein Gespräch zwischen der Akademie für Integratives Fasten (AIF), der Deutschen Fastenakademie (dfa), der Ärztegesellschaft (ÄGHE), und dem Verband für Unabhängige Gesundheitsberatung (UGB) – Moderation: Andrea Chiappa | A Conversation between the Academy of Integrative Fasting (AIF), the German Fasting Academy (dfa), the German Medical Society for Therapeutic Fasting and Nutrition (ÄGHE) and the Association for Independent Health Counseling (UGB)
13.45 Abschied inkl. Preisverleihung für das Kongressquiz | Quiz Awards and Farewell
Ab 15.30 – Fûhrung ûber das historische Charité Gelände  inklusive des medizinhistorischen Museums (optional) | Guided tour through the historical Charité premises including the Museum of Medical History (optional)
Nicht-Ärzte sind willkommen! Aktuelle Veranstaltungshinweise erhalten Sie per Newsletter.
---
REFERENTEN / Speakers

Lina Samira Bahr, Dr. | Studienambulanz Neuroimmunologie am NeuroCure Clinical Research Center (NCRC) der Charité – Universitätsmedizin Berlin
Bert Arnrich, Prof. Dr. | Professor für Digital Health, Fachgebiet Digital Health – Connected Healthcare am Hasso-Plattner-Institut HPI in Potsdam
Adi David, ND | Sheba Medical Center, Tel Aviv, Israel
Tobias Eisenberg, Prof. Dr. | Institut für Molekulare Biowissenschaften, Universität Graz
Daniela Koppold, Dr. | Abteilung Naturheilkunde, Immanuel Krankenhaus Berlin/Hochschulambulanz, Vorstandsmitglied der ÄGHE
Anja Mähler, Dr. | Clinical Research Unit am Experimental and Clinical Research Center, Charité, Berlin-Buch
Rainer Matejka, Dr. | Malteserklinik von Weckbecker Bad Brückenau, 1. Vorsitzender der ÄGHE
Andreas Michalsen, Prof. Dr. | Abteilung Naturheilkunde Immanuel Krankenhaus Berlin, Vorstandsmitglied der ÄGHE
Mahyar Nicoubin | Bundeszentrale für politische Bildung
Christina Pappe, Dr. | Parodontologie, Oralmedizin und Oralchirurgie, Charité – Universitätsmedizin Berlin
Olga Ramich, Dr. | Forschungsgruppe Molekulare Ernährungsmedizin, Abteilung Molekulare Toxikologie, Deutsches Institut für Ernährungsforschung, Potsdam-Rehbrücke
Peter Schwarz, Prof. Dr. | Abteilung Prävention, Universitätsklinikum Carl Gustav Carus an der Technischen Universität Dresden
Krista Varady, Prof. Dr. | Professur für Ernährung, University of Illinois, Chicago, USA
Claudio Vernieri, Dr. | Programm Metabolische Reprogrammierung in soliden Tumoren, Institute of Molecular Oncology, Mailand, Italien
Yurdagül Zopf, Prof. Dr. | Professorin für Klinische und Experimentelle Ernährungsmedizin am Hector-Center, Friedrich-Alexander-Universität in Erlangen
Non-doctors are welcome. Subscribe to the newsletter for event information.
---
TAGUNGSPREISE in EUR
ÄGHE-Mitglied: Präsenz 220,- / Online 75,-
Kein Mitglied: Präsenz 250,- / Online 105,-
Student: Präsenz 120,- / Online 45,-
Conference prices in EUR
ÄGHE-member: Presence 250,- / Online 75,-
No member: Presence 250,- / Online 105,-
Student: Presence 120,- / Online 45,-
Bank details
Name: ÄGHE e.V.
IBAN: DE50690500010001024520
BIC: SOLADES1KNZ (Sparkasse Bodensee)
Betreff/subject: Fastenkongress Berlin 2023 "Name des Teilnehmers/participant name"
---
UNTERKÜNFTE / Hotels
Auswahl Hotels in Berlin Mitte – Umkreis ca. 500 Meter vom Tagungshaus / Selection of hotels in Berlin Mitte / within a radius of approx. 500 meters from the conference center
Adina Apartment Hotel Berlin Mitte – 100 m
Garden Living – Boutique Hotel – 250 m
Mercure Hotel Berlin City – 400 m
Hotel Arena Rooms – Berlin Mitte – 450 m
H+ Hotel Berlin Mitte – 500 m
Hotel Aquino Berlin – 500 m
Hotel AMANO Grand Central – 500 m
Ibis Berlin Hauptbahnhof – 500 m
Art Apartments – 500 m
TITANIC Chaussee Berlin – 500 m
Wissenschaftliche und medizinische Erkenntnisse der letzten Jahre machen deutlich, dass Fasten in Verbindung mit gezielter Ernährung der vermutlich einflußreichste Faktor für Langlebigkeit und die Prävention chronischer Erkrankungen darstellt. Der internationale Kongress der Ärztegesellschaft für Heilfasten und Ernährung in Kooperation mit dem Immanuel Krankenhaus Berlin bringt erstmals im universitären Rahmen Kliniker, Wissenschaftler und Fastenexperten zusammen. Seien sie dabei, wenn die neuesten Erkenntnisse aus Forschung und Praxis zu den hot topics "Fasten und Ernährungsmedizin" präsentiert und diskutiert werden. Nicht-Ärzte sind willkommen! Scientific and medical findings in recent years make it clear that fasting in combination with targeted nutrition is probably the most influential factor for longevity and the prevention of chronic diseases. The international congress of the Medical Society for Therapeutic Fasting and Nutrition in cooperation with the Immanuel Hospital Berlin brings together clinicians, scientists and fasting experts for the first time in a university setting. Be there when the latest findings from research and practice on the hot topics "Fasting and Nutritional Medicine" are presented and discussed. Non-doctors are welcome! • Die Tagungsgebühren enthalten € 75,- Verpflegungskosten / Conference fees incl. € 75,- catering costs. • Die Tagungsgebühr ist auf eine Mitgliedschaft anrechenbarThe conference fee is creditable towards membership.
24. Juni 2023
Abendevent mit Abendessen und Tanz
24 June 2023
Evening Event with Dinner and Dance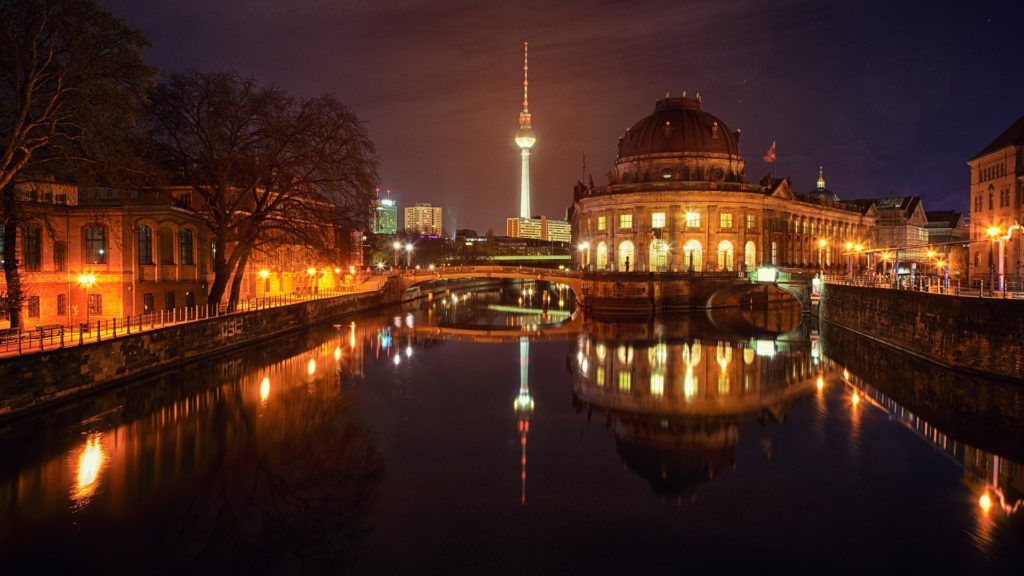 Until

25 Jun, 00:00
4h 30m
ABENDEVENT MIT ABENDESSEN UND TANZ / Evening Event with Dinner and Dance
Organized by
Dr. Daniela Koppold / Organisation Team Berlin
Nach dem Programm geht es mit einem Cultural Workout an der Spree entlang zum Abendessen. Über Bundestag und Museumsinsel wird ein begleiteter Spaziergang die historischen Highlights am Reichstagufer aufzeigen—gute Berlin-Fotos garantiert! Ziel ist die Liberate Bar, direkt am Hackeschen Markt, wo Tanzworkshop, Abendessen mit Buffet und brasilianische Musik in unnachahmlichem Berliner Flair aufwarten…
Kleine Präsidentenstraße 4, 10178 Berlin |  theliberate.com
Kostenpunkt für das gesamte Abendprogramm in der Liberate Bar inkl. Abendessen mit Buffet und Getränkepauschale: 65,- Euro pro Person 
---
After the program, a Cultural Workout will take you along the Spree River to dinner. Via the Bundestag and the Museum Island, an guided walk will reveal the historical highlights on the banks of the Reichstag—great Berlin photos guaranteed! Destination is the Liberate Bar, directly on Hackescher Markt, where a dance workshop, dinner from the buffet and Brazilian music in the inimitable Berlin flair will await you…
Kleine Präsidentenstraße 4, 10178 Berlin |  theliberate.com
Cost for the entire evening program in the Liberate Bar including dinner from the buffet and drinks: 65 Euros per person.